Most enterprises and organizations are faced with the same difficulties as regards design and control: whether it concerns how they are run or how they are transformed, their processes or their information systems, the acknowledged complexity everywhere dominates and drives to despair.
Rather than responding to these difficulties in a haphazard way, with necessarily limited means, several actors have joined forces in order to develop an open method. Praxeme is the result of this pooling of investments. It is an enterprise methodology that covers all aspects of the enterprise, from strategy to deployment.
Highlights
After the initial work carried out for SAGEM and SMABTP, the white paper, in 2004, defined the initiative and formulated some of the principles of the method.
In 2006, the Praxeme Institute association was founded.
Today, strengthened by the support from the French government and several other actors, the association is developing version 2 of the method.
Vision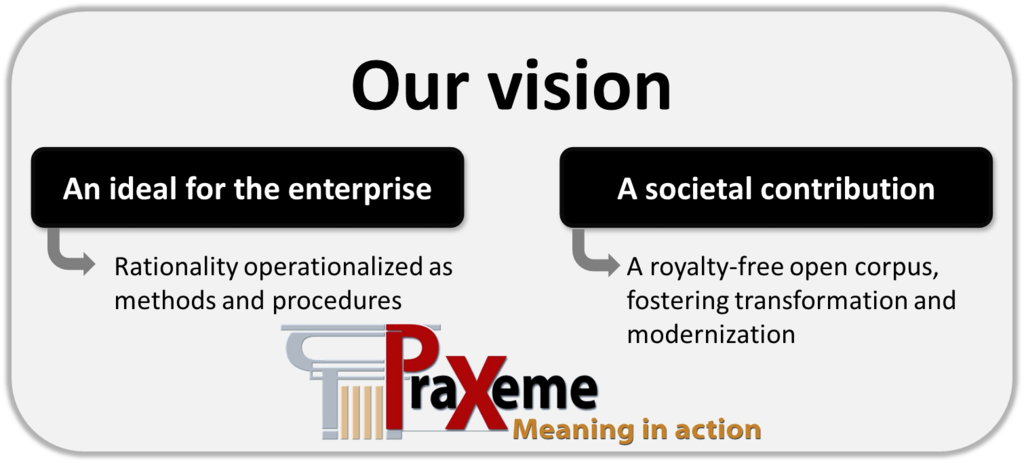 A brief chronology
2003: first contribution, contribution from SAGEM Defense (first version of the methodological guides, applied to the overhaul of drone system control stations)
2004: initiative launched, publication of the White Paper, contribution of SMABTP (Praxeme for SOA)
2005: initial communication
2006: founding of the Praxeme Institute
2007: first "Exceptional days"
2009: Praxeme recommended as a method for designing information systems in the General Interoperability Framework (RGI: Référentiel général d'interopérabilité)
2010: publication of the Enterprise Transformation Manifesto, signature of a cooperation agreement with CESAMES
2011: contribution of the "Performance Tree" method, donated to the open corpus
2012: exceptional training course "Business Architecture & Transformation"
2013: Praxeme adopted by the Interministerial Directorate for Information and Communications Systems (DISIC), launch of version 2
For more details: see the presentation about the initiative on the wiki.